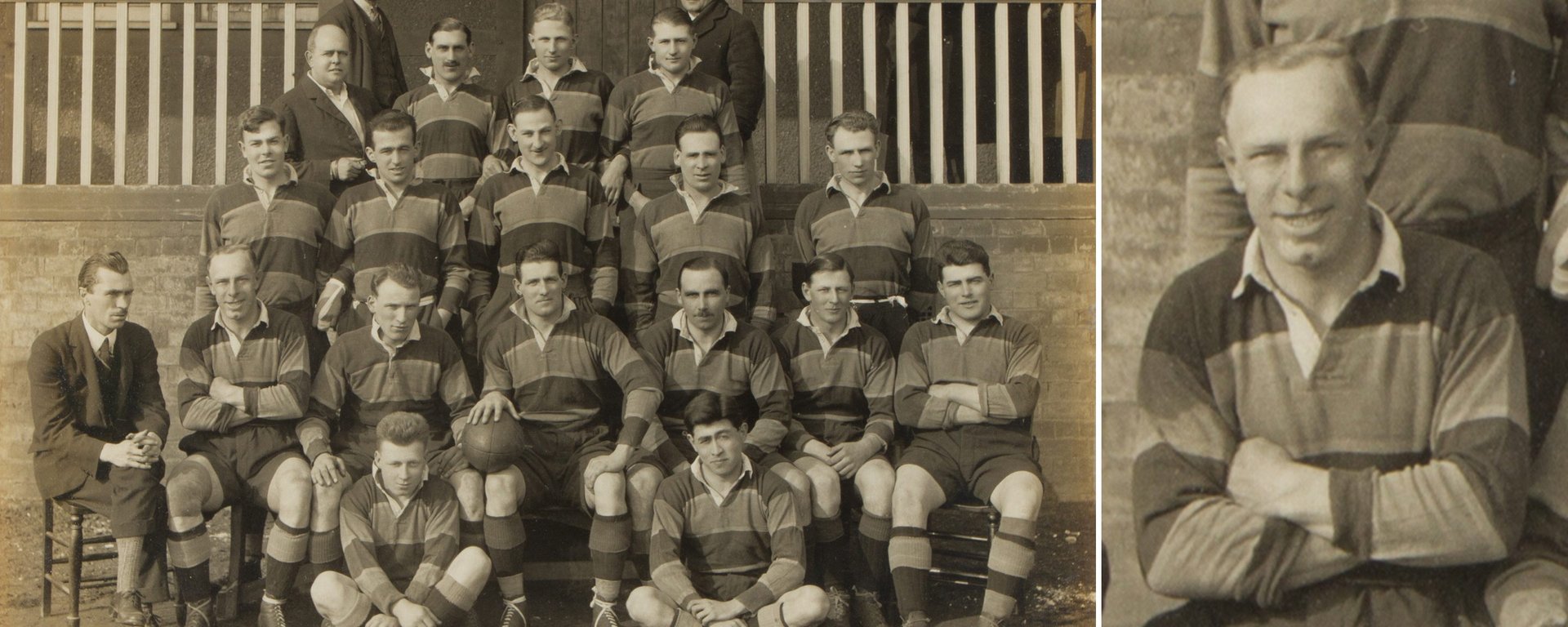 Mobbs' Own men's stories
In September 1914, 278 men joined the 7th Battalion, Northamptonshire Regiment. They formed 'D' Company and became known as the Mobbs' Own.
In 2019, a group of volunteers responded to a call for help from Northampton Saints Foundation for the charity's Mobbs Own project – which was backed by a National Lottery Heritage Fund grant – and have uncovered some brilliant stories.
We are delighted to share our project brochure which tells some of the stories of the men and their families of 'D' Company.
Traditionally, when we have talked about the Mobbs' Own we have focussed on Mobbs himself and Jack Gillam, as both are named on the memorial at Franklin's Gardens. This brochure contains stories from many more Saints players who fought and survived the war and one Saints player who was the son of a Mobbs' Own.
It also contains stories of those who weren't sportsmen but just found themselves in 'D' Company. It features a list of all the men that joined up with Mobbs in September 1914. And it tells the story our our first project which thanks to our brilliant group of volunteers has achieved far more than we could ever hope.
ALBERT LUCK | SERGEANT | 15644 | SAINTS #514
Born in 1895 in Semilong, Albert was the youngest of three children, two boys and a girl. The family all worked in the boot and shoe industry, living in Dallington and St James before Albert signed up. He was just 19 when he joined the Mobbs' Own and was discharged in 1919.
He was wounded in 1916, but went on to win the Military Medal twice in 1917 when he was also promoted to Sergeant. He was one of just 5,796 men who won the honour twice – for gallantry and devotion to duty under fire.
On his return he played some 253 times for Northampton Saints from 1919 until his retirement in 1928. He played in the pack, mainly at lock, and such was his popularity at the Club that when he married in 1926, the committee asked for donations for a present to be made to the secretary. He moved to Weston Favell following his marriage and received a 'hearty reception' at his retirement game in April 1928.
His name is now on the '200 Club' roll of honour, and in pride of place by the No.4 peg in Northampton Saints' matchday changing room at Franklin's Gardens.
CLICK HERE to view the the Northampton Daily Echo's match report from Albert Luck's final Saints match, published April 14 1928.
RUSSELL GURNEY | MAJOR GENERAL | SAINT #413
Russell Gurney was the son of Thomas and Annie Gurney. Thomas was the Vicar of St Giles' Church in Northampton, and the couple had three other children – John, Cedric and Christine.
Russell initially joined the Public School Corps (known as the Pals Battalions), but due to a shortage of officers, public school and university graduates were encouraged to apply for commissions and eventually the Battalion's ranks were depleted. Russell was swiftly gazetted to the 7th as an Officer. He continued to rise through the ranks and throughout his military career was awarded numerous medals and honours.
Prior to the war he was a trainee for A C Palmer and Co. Chartered Accountants in Northampton. He played rugby for the East Midlands and nine times for Northampton Saints – and according to a report in the Northampton Mercury in 1916, it seems he was responsible for organising the occasional rugby match amongst the men during his time in France!
After the war he stayed in military service; although deemed unfit at the start of WW2 he was still promoted to Major General in 1943, and became an aide-de-camp to King George VI in 1944. He was included in the honours list in 1944 and was awarded a Companion Order of the Bath (an order of chivalry, for service of the highest calibre).
He wrote several training manuals, a novel with his wife Margaret and 'The History of The Northamptonshire Regiment 1732-1934'. He has two portraits recorded in the National Portrait gallery, and died in 1947 aged 57.
FRANK HAROLD AXFORD | PRIVATE | 15766
Known in the family as Harold, his father was a Shoe Laster who moved the family from London to Northampton around the turn of the century. A tall, slender figure and the youngest of five children, Harold signed up at the age of 19, having previously worked at George Mance Smith in Mercer's Row.
Harold married Ethel Vaughan, a shoe machinist, in 1916 – apparently after her father demanded Harold be given leave to marry his daughter, as she was pregnant.
Sadly though, Harold never met his daughter, Madge. He was first wounded in action, taking a gunshot to the chest on 13th July 1916, before re-joining his battalion only to be killed a month later at Guillemont. He is commemorated on the Thiepval memorial.
Ethel had to write repeatedly to have Harold's personal effects returned to her, and only received them on 25th February 1917 – sadly, there is no mention of the gold ring and silver chain she sought. However, the cigarette case and his medals are still with Harold's granddaughter.
DENIS HERBERT FARRER | MAJOR
Born in Bigbury, Devon, Denis was the only son of Maria and Frederick, the rector of Bigbury. In 1907 he married Joan Freeman-Mitford, sister to David, the father of the infamous Mitford sisters.
Joining the 7th Northamptonshire as a Sergeant, he was soon promoted and became a leading figure in D company, hosting journalists in Mobbs' absence at Shoreham, during pre-deployment training.
Although injured in 1915, his military career continued until 1919 when he left from the position of Major and Assistant Provost Marshall.
Denis and his family lived in Brayfield House, near Newport Pagnell which he inherited along with the role of Lord of the manor. Denis was active in community affairs all his life notably as a Magistrate, a County Councillor, British Legion Branch President, and Chairman of the Board of Managers, Bedford Modern School.
He also established the annual Mobbs reunion dinners. In 1919, over 100 men attended the first where Farrer raised a toast to Mobbs, and the fallen who made the ultimate sacrifice.
CLICK HERE to read the Northamptonshire Mercury's account of the first Mobbs' Own reunion dinner, hosted by Farrer.
CLICK HERE to see Farrer's Army Medal Card.
FRANK R.S. ADAMS | PRIVATE | 15774
Frank Rowland Stanley Adams was the youngest son of Alderman Frank Oliver Adams and his wife, Sarah. Whilst Frank was a draper, his father was a Master Baker – their shop was at 22 Marefair which is now the Ibis Hotel. According to the 1911 Census, Frank lived in Northampton with his four siblings – Ada, Sarah, Elizabeth and Thomas. He went to school at what is now Northampton School for Boys.
His brother, Thomas, followed in his father's footsteps and was a Master Confectioner. The business became what we knew until recently, as Oliver Adams, the Bakers.
Frank never made it to France – he travelled with the rest of the Mobbs' Own to Shoreham in East Sussex for training. But whilst he was there, Frank contracted meningitis and died in a hospital in Brighton. His funeral was held in Northampton, and he was buried with full military honours at Billing Road Cemetery.
In a tragic twist, Frank's grave was destroyed in 1941 in an air raid. He is now honoured on the First World War memorial at Billing Road.
CLICK HERE to read the Northamptonshire Mercury's account of Adams' funeral from 30 April 1915.
SYDNEY BAXTER | LANCE CORPORAL | 15758
Sydney Baxter was born 24th January 1893, to Thomas and Agnes Baxter. According to the 1911 census, Thomas was a publican and Agnes was assisting in the business; maybe this is how Sydney came to hear about Edgar and the Mobbs' Own?
He was one of five children, all boys. His older brothers were Thomas, George and Horace and his younger brother was Reginald. Both Sydney and Horace worked as motor engineers and we know that Sydney was working at Ward Rowlatts in Wellingborough before the War. Reginald, at the time of the 1911 census, was a draper's assistant.
Sydney joined the Northamptonshire Regiment, but then on the 12 April 1917 he was transferred to the RAF as a 'fitter'.
After the war, in 1923, he married Martha Riley (born 11 Dec 1896) and they had two twin boys; Sydney and Reginald. At the time of the 1939 register, they lived at 104 Lee Road. Sydney Snr (aged 46) was listed as an unemployed motor mechanic, Martha was given the profession of 'unpaid domestic duties', whilst the two sons were butcher boy and grocer boy respectively.
Sydney's story is of a 'normal' young man who went to War, was lucky enough to return and continued to live a simple life. Little did he know that over a 100 years later, he was to be a historical figure of importance.