Northampton Saints Foundation is proud to be supported by Harry Mallinder, James Grayson, Tom Wood and Jack Fleckney as our Ambassadors.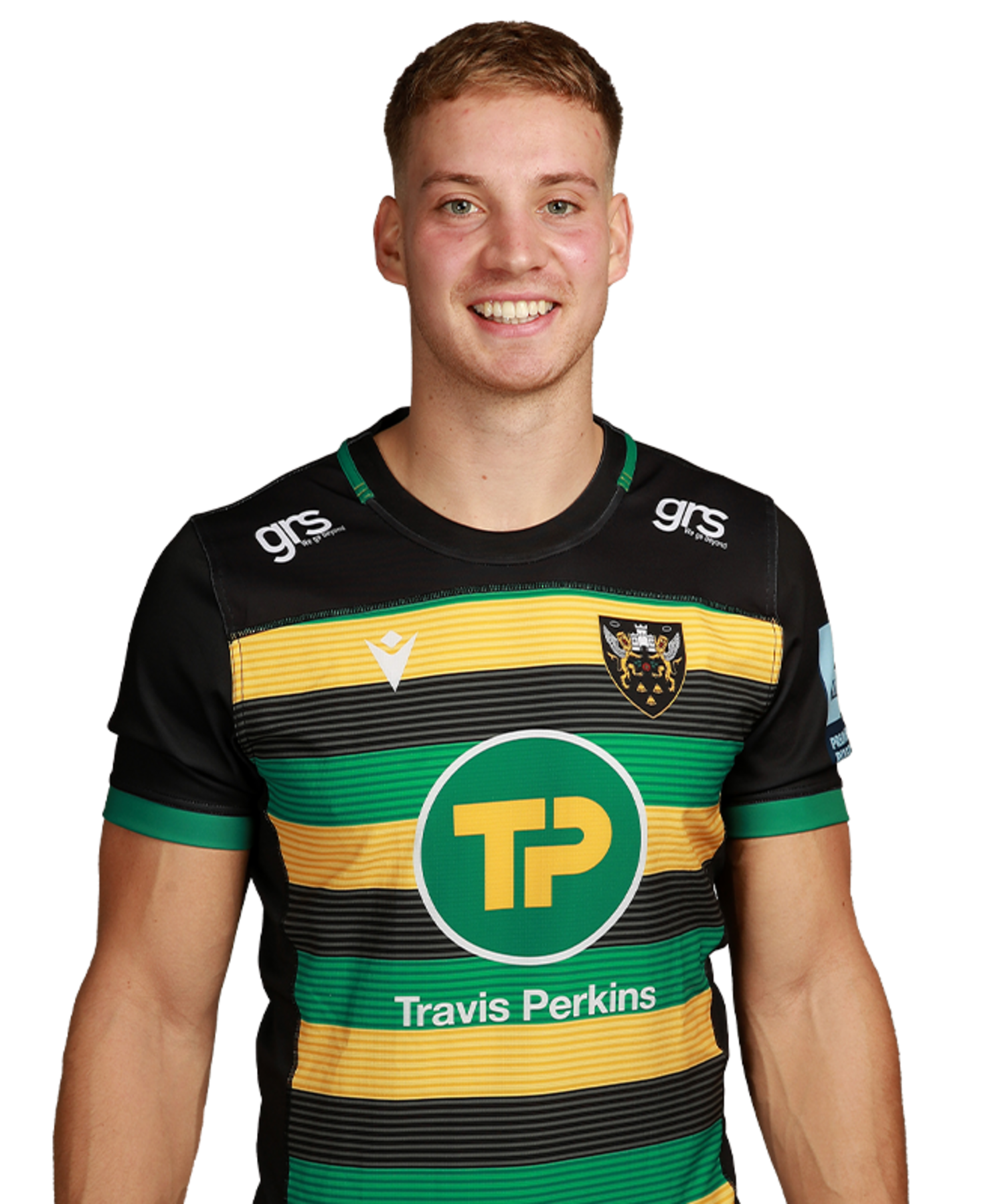 HARRY MALLINDER
Harry is a proud and committed supporter of Northampton Saints Foundation, actively supporting the Foundation in our work with young people, always generous with giving his time to group sessions, working one-to-one with the students or supporting the leadership team with corporate work, pitches or public speaking.
A significant injury in the 2018/19 season meant Harry had much more time on his hands, and he didn't hesitate to help the Foundation around his rehabilitation. Harry often refers to this time with the Foundation as providing "perspective" and in his first interview after returning to the 1st XV talked about his time with the Foundation.
"I've spent a lot of time with the Saints Foundation and that has helped me enormously, because when I see real problems and real issues that young people are going through in this town and this county, it makes me feel like what I've been going through is pretty insignificant," he said.

"It wasn't until my injury that I got properly involved with the Foundation. I go to as many sessions as I can and I have been quite moved by it."

Harry Mallinder
"It's been very rewarding and in a way it has put my injury into perspective. It has made me realise how lucky we are as rugby players."
Harry has attended workshops, award ceremonies, schools, businesses and shared our message on Instagram live as Northampton Saints Foundation Ambassador. We couldn't have been prouder when he touched down that first try on his return to the starting line-up from injury, and when he won the Gallagher Premiership's Community Player of the Season award for his contributions towards the Foundation in 2019/20. We are truly grateful for his continued and unwavering support.
Northampton Saints Foundation and Harry Mallinder plan to keep in touch as Harry continues his rugby journey in Japan. If and where the work of the Foundation and Harry's ambassadorial role generates opportunities in Japan we will forge links, and support where we can, if it is appropriate to do so. We wish Harry all the very best in his new chapter.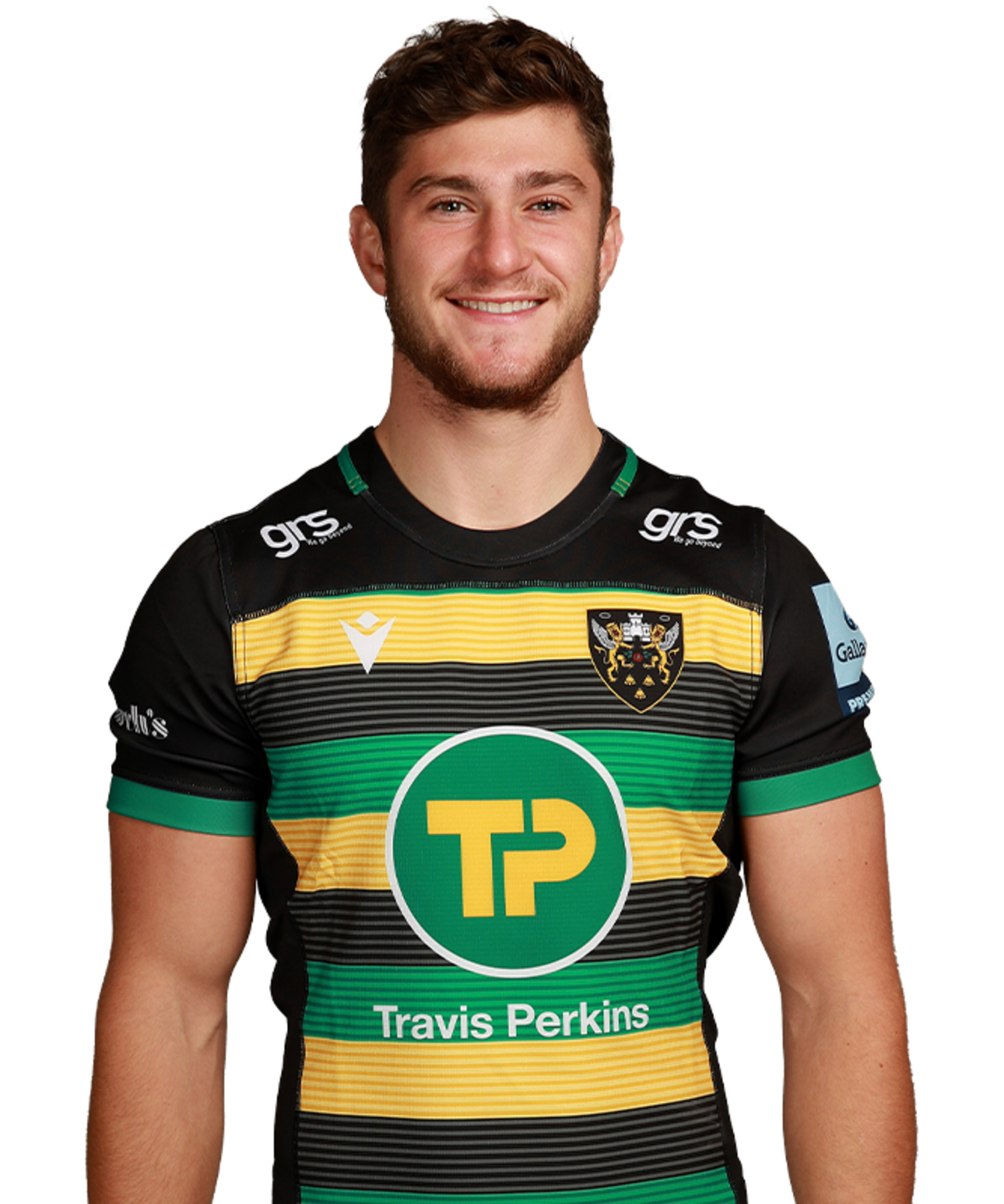 JAMES GRAYSON
James works with Northampton Saints Foundation on many levels; he can often be found speaking with our young people, checking in on their progress and development or helping with filming videos to share and capture our story. James enjoys watching the confidence of our young people grow, and was an inspiration throughout the 2019/20 CV and Interview workshops for those participating in our Employability programmes.
Creating time around his training schedule, James often just appears in the classrooms or joins in with students as they kick a ball around over a break to be a strong presence and influence for them at Franklin's Gardens.
James said; "The Foundation provides much-needed guidance and support for the younger people of Northampton who need to get back into mainstream education. It has been brilliant to see the development of individuals who are starting to understand themselves and become more confident in their own abilities.
"Watching them in the interview situation was awesome. Especially seeing them get brilliant feedback and potential job offers from local businesses from around the town."
"The people at the Foundation continue to do amazing work and I am proud to be a tiny part of what's going on."

James Grayson
James supports and raises awareness for the Foundation through donating time or unique items to raffles and auctions throughout the year. We are very fortunate and proud to have James helping to promote and raise awareness with the team at Northampton Saints Foundation.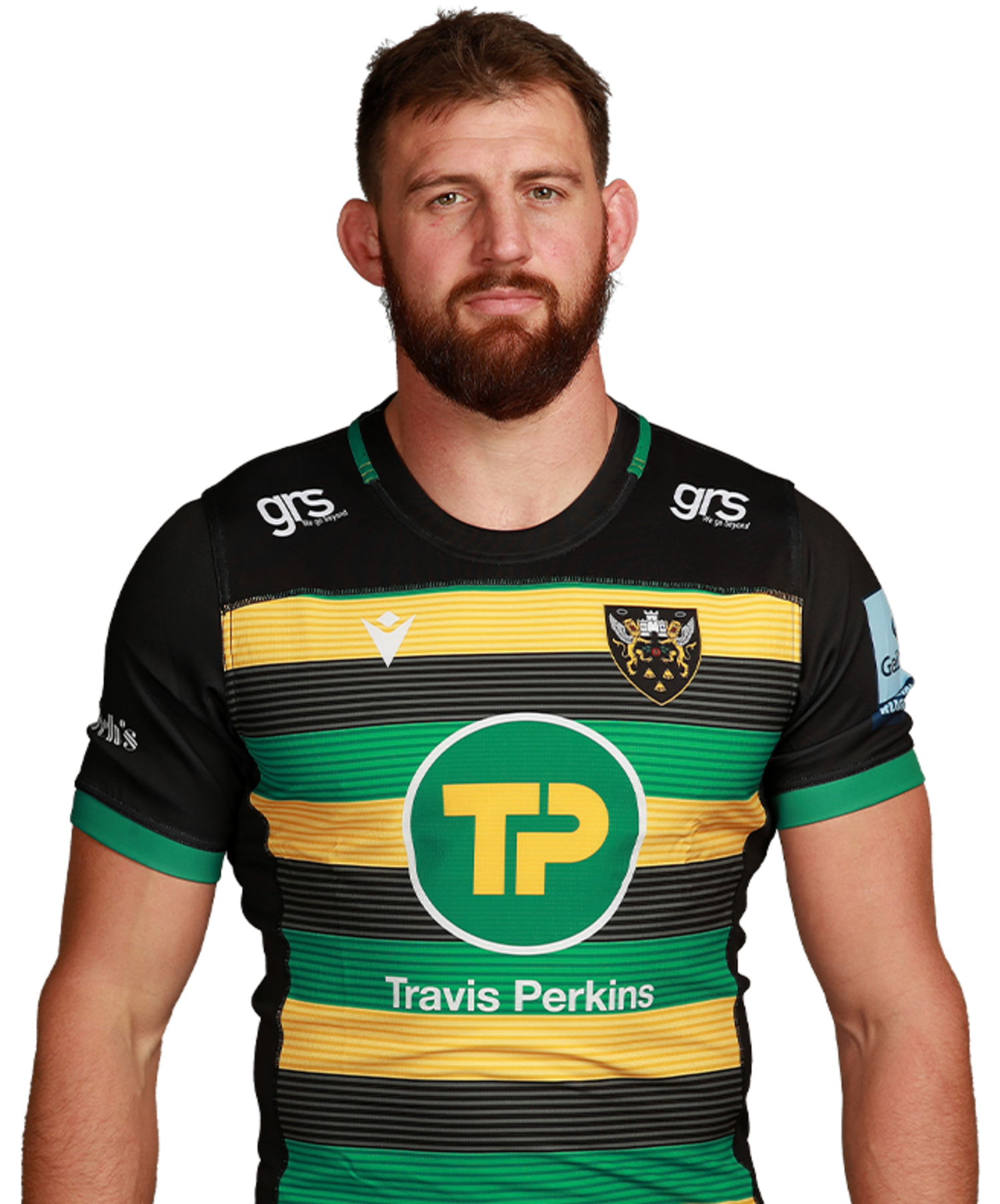 TOM WOOD
We are delighted Tom has joined the Foundation as our Ambassador.
The flanker has been with Saints for over 10 years and has crafted an impressive career. He is a 50-cap England international, Premiership champion, European Challenge Cup champion, Heineken Cup finalist, Premiership Rugby Cup champion and Premiership Player of the Season.
Tom will work with young people, sharing his knowledge and skills both on and off the pitch. He will also support us by making personal appearances for the Foundation's partners and supporters, as well as speaking at events.
Upon joining the Foundation as ambassador, Tom said: "I have already had an introduction to the work done by Northampton Saints Foundation through the link to my Testimonial year, and I am really looking forward to getting more hands on.
"I've seen the impact that the likes of Harry Mallinder have had working closely with the young people in our community.
"There are young people that really need our support and guidance and I am eager to do my part."

Tom Wood
"Saints Foundation is expanding quickly to keep up with the demand and although they've been hugely successful steering so many individuals back into mainstream education, training or work, the stats show that those few percent that are missed really suffer, so we must strive to do more."
Tom has already given a significant amount to the Foundation, choosing us as a beneficiary for his 19/20 testimonial year, donating his handmade items to our auctions, participating in our Foundation film, supporting and visiting young Foundation supporters and participating in Foundation events.
"We are really proud to work with Tom," said Catherine Deans, Managing Director. "He will make a real difference to the lives of young people at the Foundation providing invaluable support to help improve their lives. Tom is part of the fabric of the club, and we are looking forward to having him on board with Harry and James who have done so much for us already."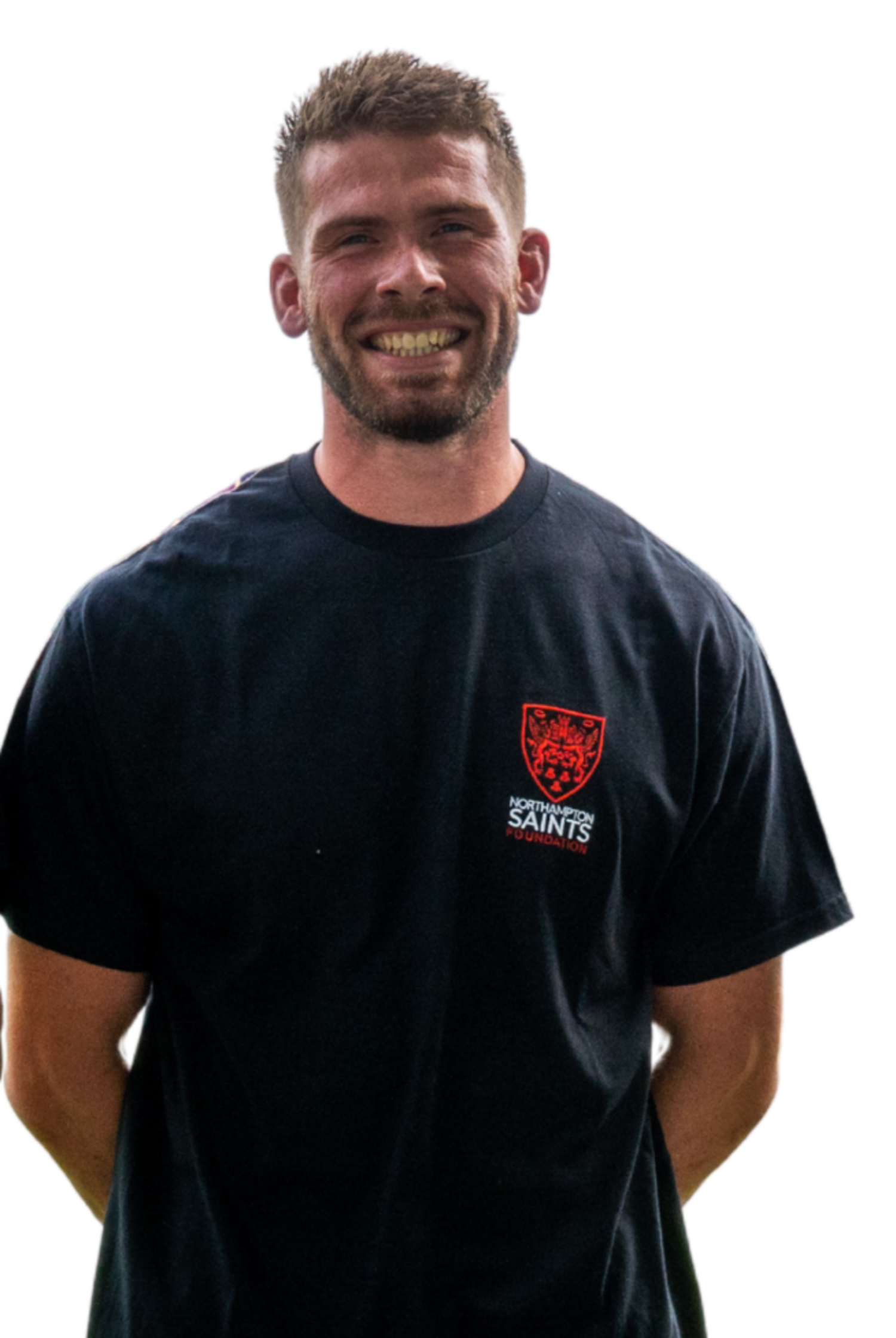 JACK FLECKNEY
The Foundation is privileged to have Jack on board as the Foundation's newest Ambassador.
The adventurer will help to raise awareness of the work we do, but also inspire, mentor and be a role model to our young people.
Jack's life has been built on challenges and his journey to face them head on and overcome them has made him who he is today. He is now driven to help vulnerable young people by putting himself in *vulnerable positions and high risk, physically demanding environments to tell a story and raise money to give these young people a new opportunity. Jack has raised nearly £50,000 for the Foundation to date.
Jack Said "It is an absolute honour to be an Ambassador for the Northampton Saints Foundation".
Visit Jack's website here.
"I have had the opportunity to see the amazing work they do supporting young people and instantly wanted to raise more funds to help reach out to more and offer the best opportunities for others. The team at the Foundation are changing lives through their hard work and I feel lucky to be a small part of that!"

Jack Fleckney
*All of Jack's adventures are planned with caution and follow healthy and safety guidelines. Please do not replicate any of Jack's challenges without seeking medical advice, proper training and guidance from professionals.