Last weekend saw the culmination of months of work and preparation come together with Northampton Saints Foundation fundraiser, Jack Fleckney, who bravely attempted to break the 24 hour chin-up World Record at Franklin's Gardens.
The event had significant external sponsorship, particularly from headline sponsor, Gymshark, and final-hour sponsors, Approved Business Finance. Both made significant donations to Northampton Saints Foundation in support of Jack, while Gymshark have also created and released part one of a documentary of Jack's story and were at the event for the full 24 hours to film part two.  Approved Business Finance, already fantastic supporters of the Foundation, were also hugely proactive in their content creation on the day by sharing and promoting the event. A huge thank you to all businesses and individuals who sponsored and donated to Jack's World Record page, which remains open for donations here – your support means the Foundation team can change futures for the young people in most need in Northamptonshire.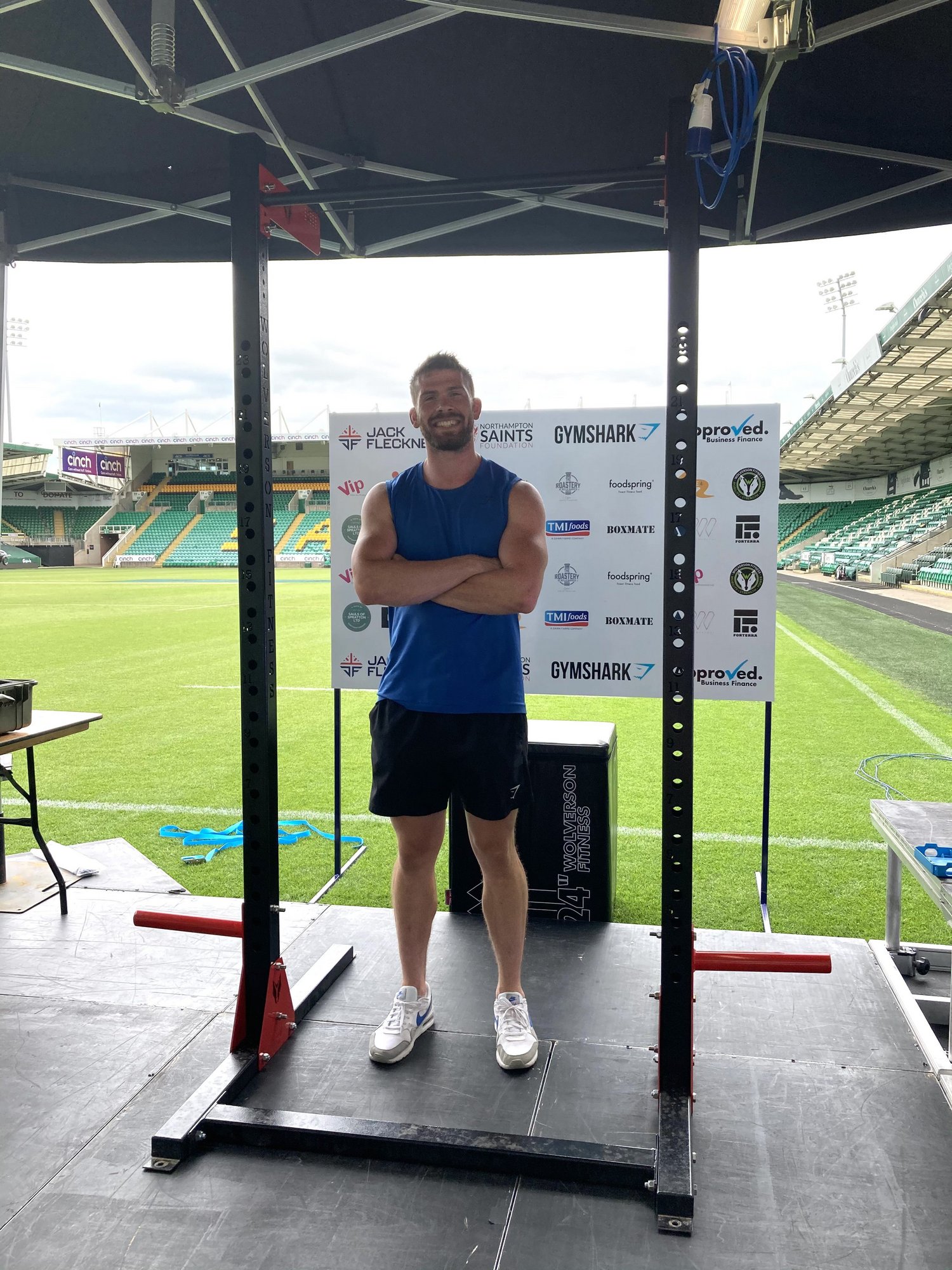 We absolutely could not have built the event without the input, ideas, equipment and support of Andy Bentley and his team from Video Inn Production. They provided and set up the staging, vital AV equipment and DJ booth. Andy's support and advice was invaluable, and we are hugely grateful to him and his team for helping us meet the World Record rules and requirements. Also Mark from Sauls of Spratton, and Marcel, Scarlet and Kyle from The Roastery, fuelled the event over the 24 hours on a 'pay what you feel' basis. Copious amounts of coffee and bacon were consumed, keeping everyone going through the night and into the morning. Your generous support and welcome smiles were much needed, and just over £2000 was raised from donations for food and drinks, a superb amount.
Local DJ Carly Wilford organised a 13-hour DJ line-up, who brought music to keep Jack motivated throughout the attempt. Sets from Martin Offiah, ex-Saints James Haskell and Charlie Davies, as well as Carly herself had Franklin's Gardens bouncing and brought the event to life.
The team from Move4 Physio – Lee, Rowan and Kiera – your efforts in the build-up and throughout the 24 hours were immense, giving Jack the advice and support he needed to prepare for and attempt this challenge in the best shape possible.
But nothing can compare to what Jack Fleckney actually did. Jack has mental and physical strength that is in so many ways beyond comprehension, and tested his body to the absolute limit, all in the name of breaking a World Record to support our charity in a way we could not have imagined.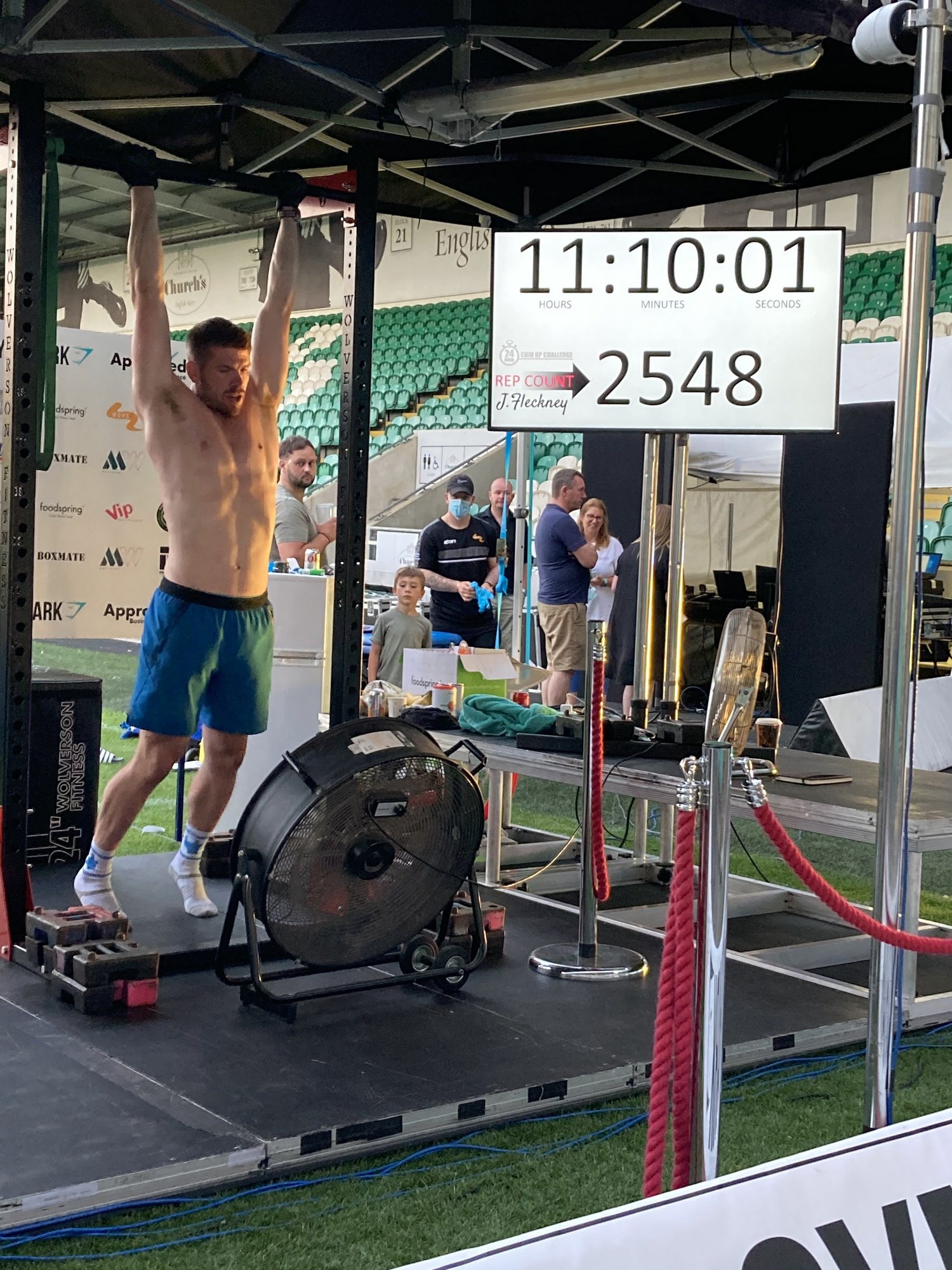 Jack set himself a massive target to provide increased classroom space at Franklin's Gardens, enabling the Foundation to accommodate and support more vulnerable young people from across Northamptonshire on our Engage programme. Almost £45,000 is already raised and the total is still growing!
It is a massive amount of money that will mean the Foundation can expand our work and support even more young people aged between 10-16 who are struggling in, or excluded from, mainstream education.
After six months of training and around 50,000 chin ups to prepare, we counted down to 10am and Jack was underway. Setting off in the bright sunshine and heat of the day, Jack made an impressive start. He completed eight hours maintaining a rate of 250 chin ups per hour, taking him to 2000 chin ups well ahead of schedule, but in the fourth hour a pre-existing injury had reared its head. Interventions from the Move4 Physio team, ice and medication helped Jack sustain his effort into the night, and the cavalry appeared in the evening with the Saints team joining Jack on their return from their final Premiership game of the season in Bath.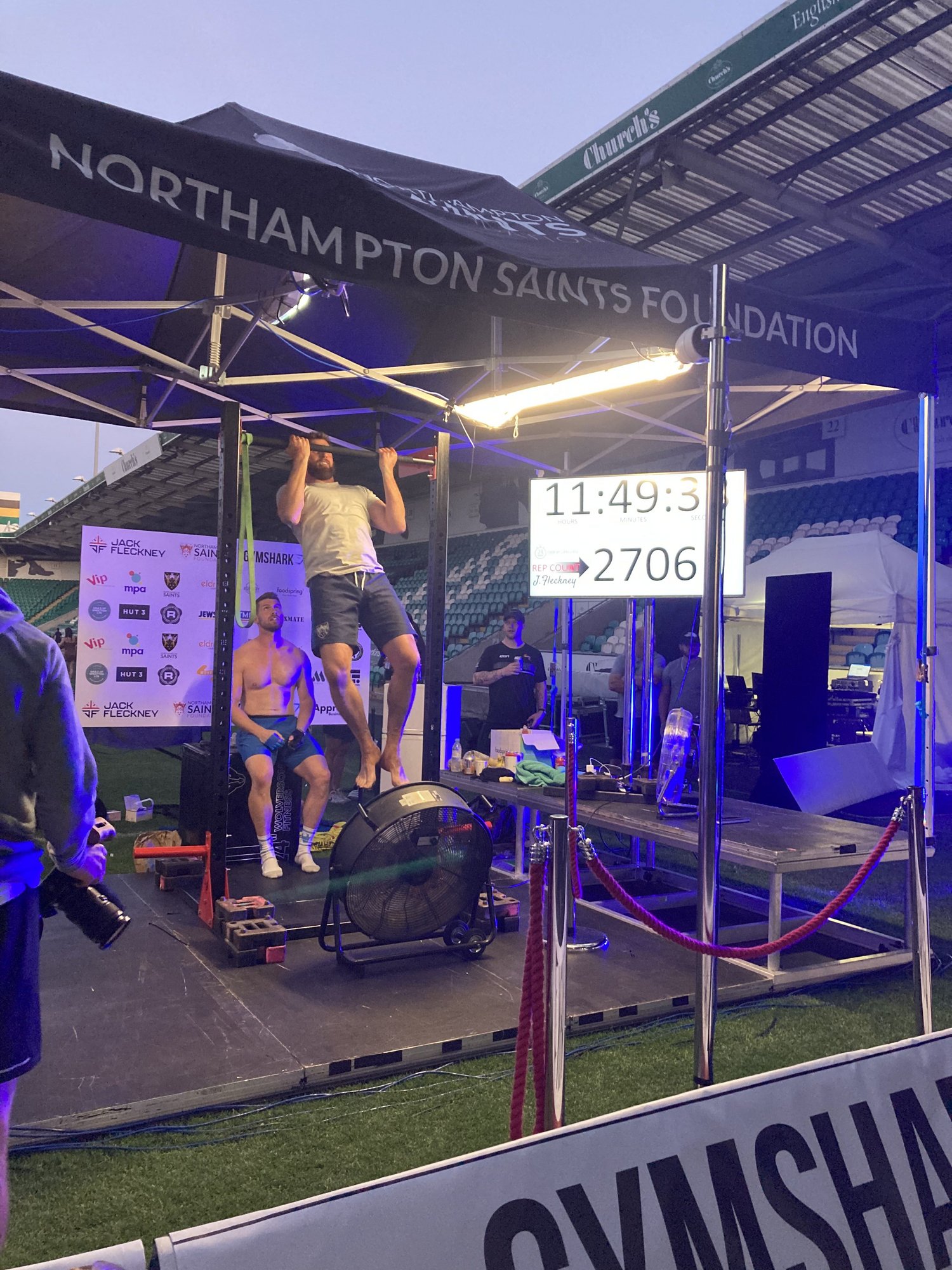 Tom Wood, a huge supporter of Jack, even joined him on the bar, matching Jack's pace in between Jack's chin-ups, in an inspirational effort to keep Jack on track. Club captains Lewis Ludlam and Alex Waller drove the competitive spirit on the spare bars completing almost an hour themselves. Jack's pace and technique was significantly affected by the injury that was progressively worsening, some time off the bar to get intensely focused work on the injury took Jack further from schedule and the World Record began to slip away.
With the damage done and the record attempt over, Jack finally stepped away from the bar at around 4.30am having completed 3296 chin-ups. Almost immediately Jack was talking about the next attempt, so this is not the end of the story!
We couldn't be prouder of Jack, there is no more obvious and apparent role model for resilience, tenacity, hard work and commitment than him. For now, we send you our huge and grateful thanks, it is time to rest, recover and recuperate.
Jack – The Foundation is so fortunate to have you as part of our team, whatever is next, and when you are ready to go again, we are right there with you.
Thank you to the below businesses and individuals for your support!
Headline Sponsors:
Gymshark
Approved Business Finance
Stage and Set up:
Video Inn Production – Andy Bentley
Northampton Saints Rugby Club:
Andy Tresias
Kristy Coates
Terri Love
Jack Miller
Ulundi Makhanya
Jack Fleckney Foundation Trustees and Team:
Jon Drown
Debbie Ferguson
Mike Price
Simon Burrows
Food and Drink:
Sauls of Spratton
The Roastery
Chin-up counters:
Jamie Bates
Andrew Brown
Jake Maunders
Alex Pearce
Ollie Taylor
Jo Cook
Businesses who sponsored an hour:
Video Inn Productions
Mike Price Associates
The Roastery
Rocket Espresso
The Movement Workshop
Jewsons
Eldraw Media
Foodspring
Forterra
Hut3 Marketing
TMI Foods
Move 4 physio
Northampton Saints Rugby Club
Sauls of Spratton
GH Leathers
Wolverson Fitness
Approved Business Finance
DJs:
Carly Wilford
James Haskell
Rik Ryanne
MiddleGround
Emajen
Martin Offiah
Monaco
Fivepast5
Max Da Base
Amelia Heard
Sarah Clarke
Charlie Davies
Zakk Wild
Rub!k
Josh Monie
Schools who took part in School Superstars:
Oakley Vale Primary
Brambleside Academy Trust
Lings Primary School
St Andrews College
And finally thank you to all the 'Challenge Jack' participants who joined Jack on the chin-up bars for 15 minutes!