Northampton Saints Foundation are delighted to announce that our second annual Foundation Day, in partnership with cinch, has raised over £60,000.
Saturday's game saw Northampton Saints take on Bristol Bears – and cinch Stadium at Franklin's Gardens turned red as players and supporters came together to help blow the Foundation's fundraising target (of £45,000) out of the water.
The purpose of Foundation Day is to raise awareness and vital funding for Northampton Saints Foundation. We have experienced an exponential growth as demand for our services have grown, undoubtably linked to the Covid-19 pandemic. The Foundation relies heavily on fundraising activities, with an annual target of £300,000 to continue our award-winning and impactful work within our community.
With a total of over £60,000 raised on Saturday alone, we will be able to continue to change the lives of young people in Northamptonshire and beyond. Inspired by the rich heritage of Northampton Saints, we support disadvantaged and disengaged young people in changing the direction of their future, and help to educate over 6000 children in mainstream education settings each year.
In the run up to Saturday's big event, the Foundation were privileged to have the support of ambassadors Tom Wood, James Grayson, and Jack Fleckney – while Lewis Ludlum, Fraser Dingwall, Courtnall Skosan, David Ribbans, Alex Coles, Tommy Freeman, Dan Biggar and Piers Francis all also filmed promotional videos.
As the gates opened, the Supporter Village came alive with fundraising activities, face painting and a tombola in the marquee hosted by young people on the Foundation's HITZ programme. Northampton Saints players who weren't involved in the match took selfies and signed flags for a donation, while Foundation staff and volunteers sold raffle tickets and copies of the Foundation cookbook, 'Scrummy Feasts'.
On the pitch, the 23-man matchday squad warmed up in Foundation t-shirts which were later signed by the players, some of which are prizes in the Foundation's raffle. Ipswich Rugby Club lined the pitch as a guard of honour. Foundation Day flags were waved, and a giant flag held so even those in the sky could see.
As kick-off drew closer, Northampton Saints' players took the hand of mascots in Foundation t-shirts to run out onto the pitch with fireworks and special red smoke to mark Foundation Day.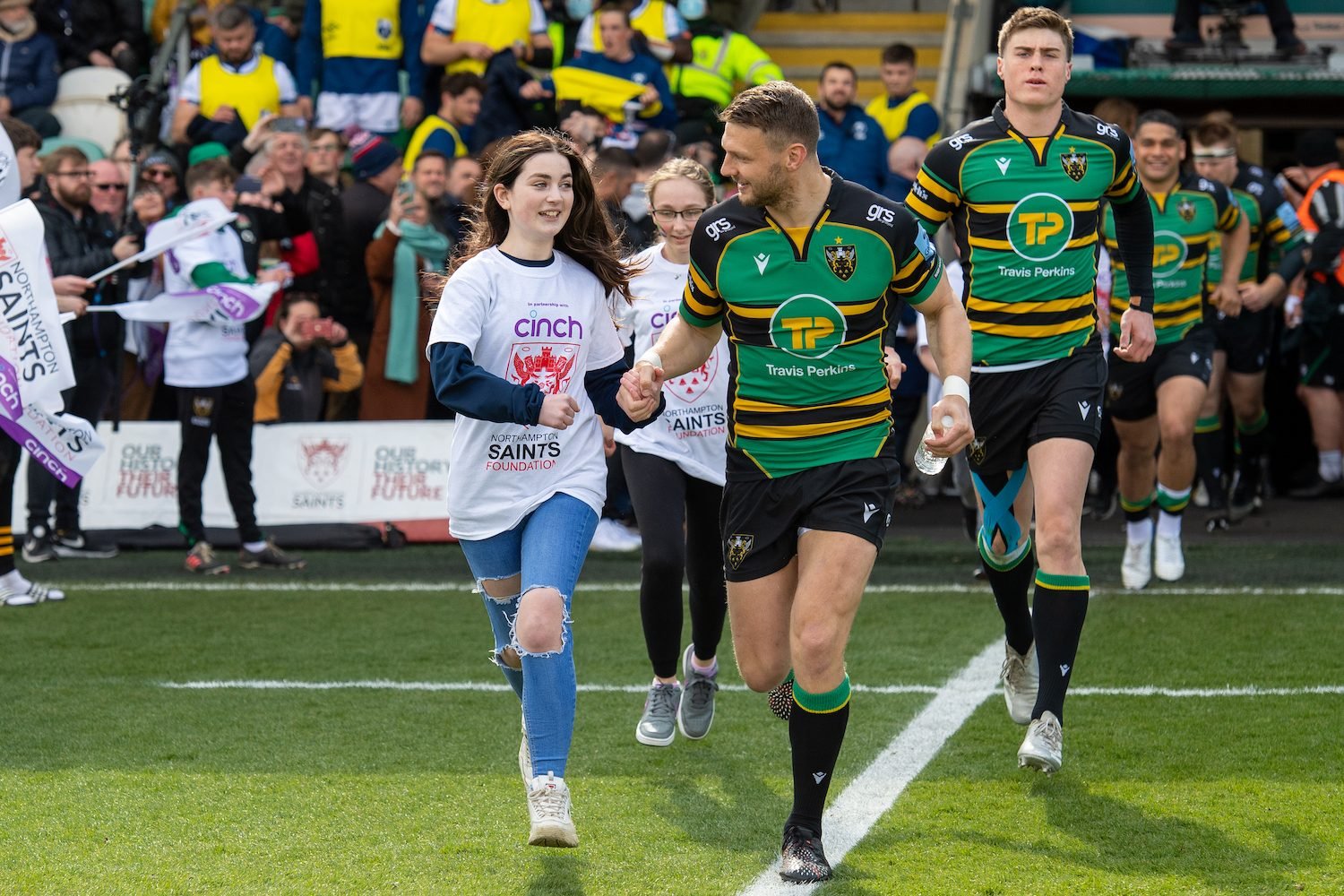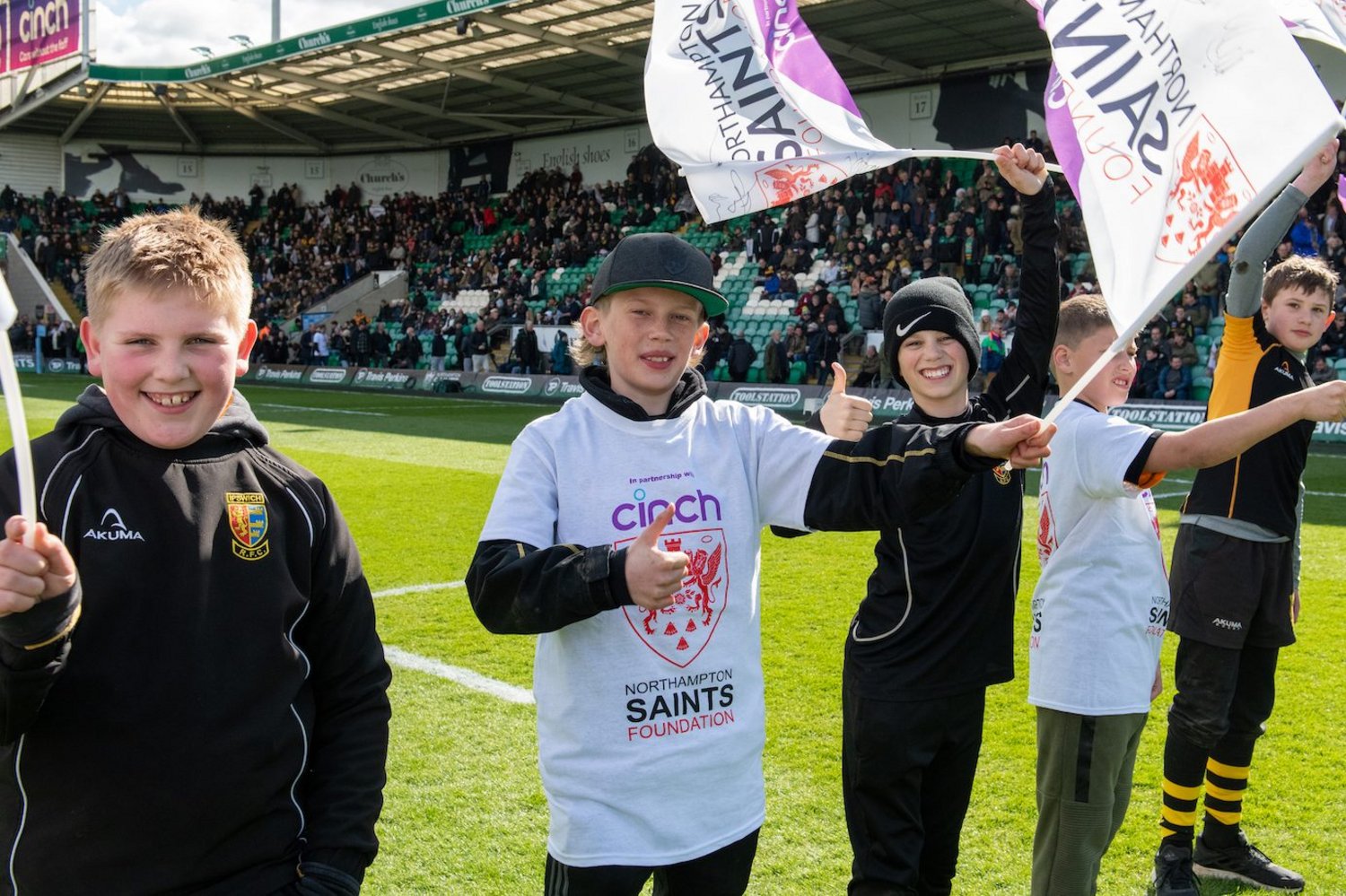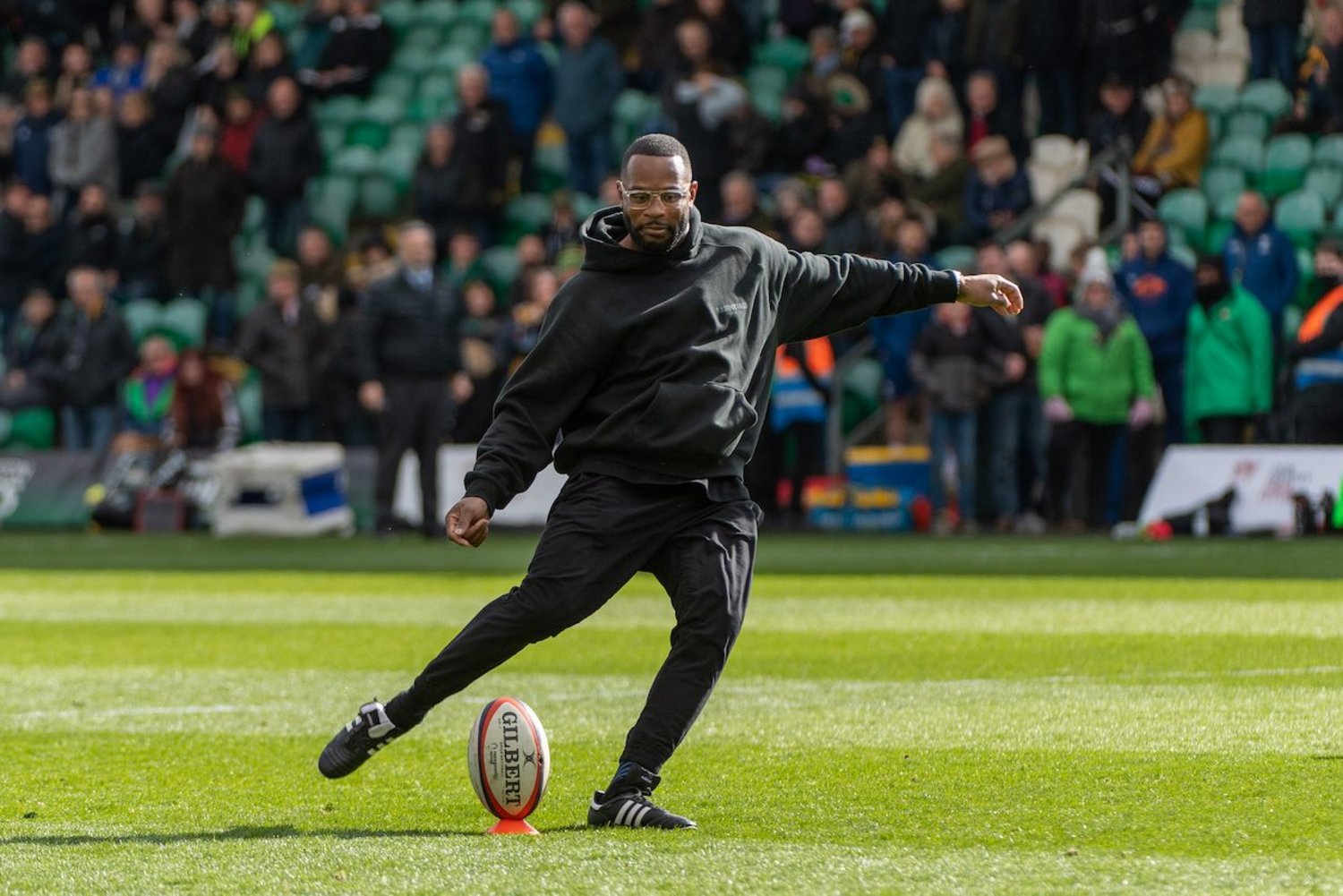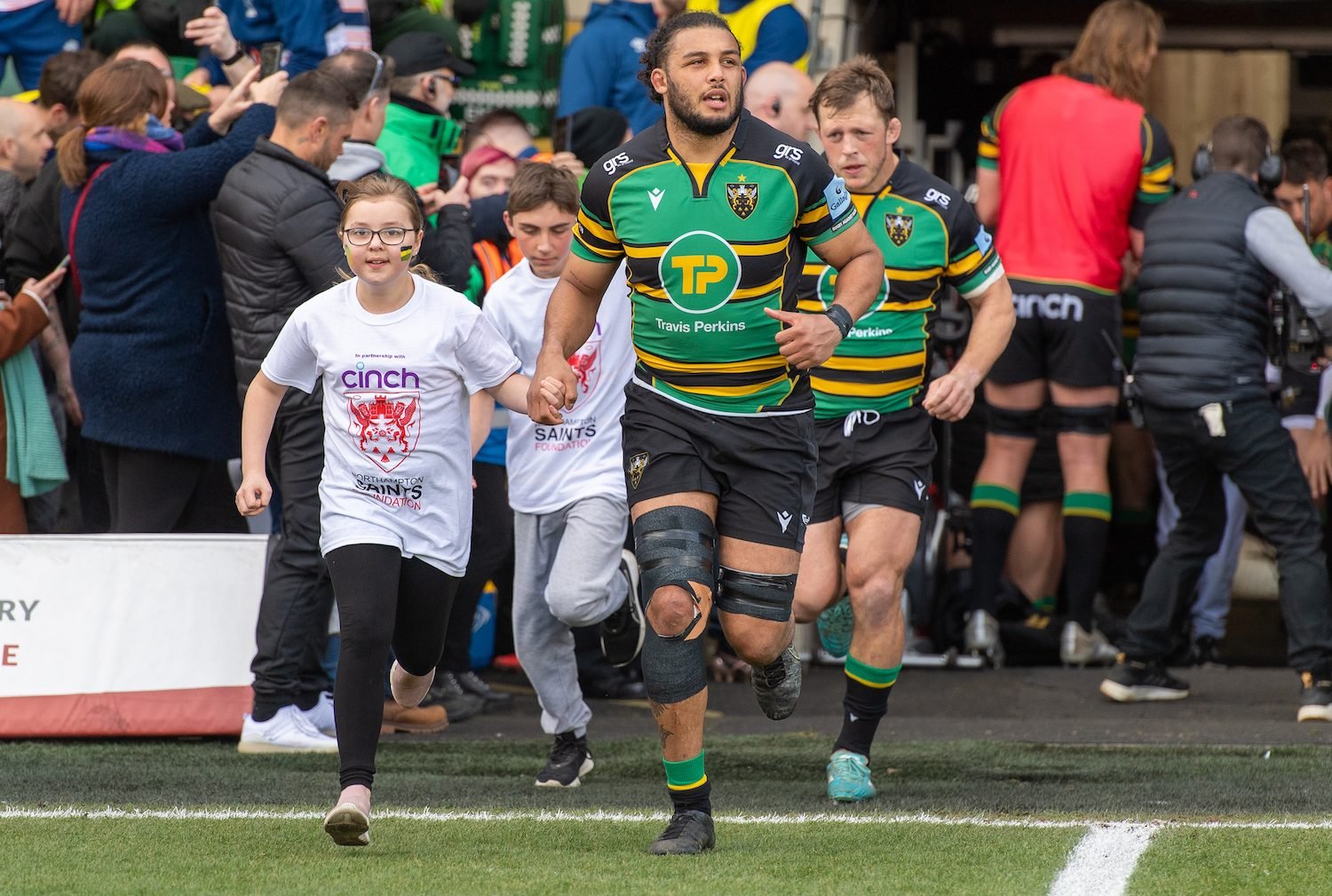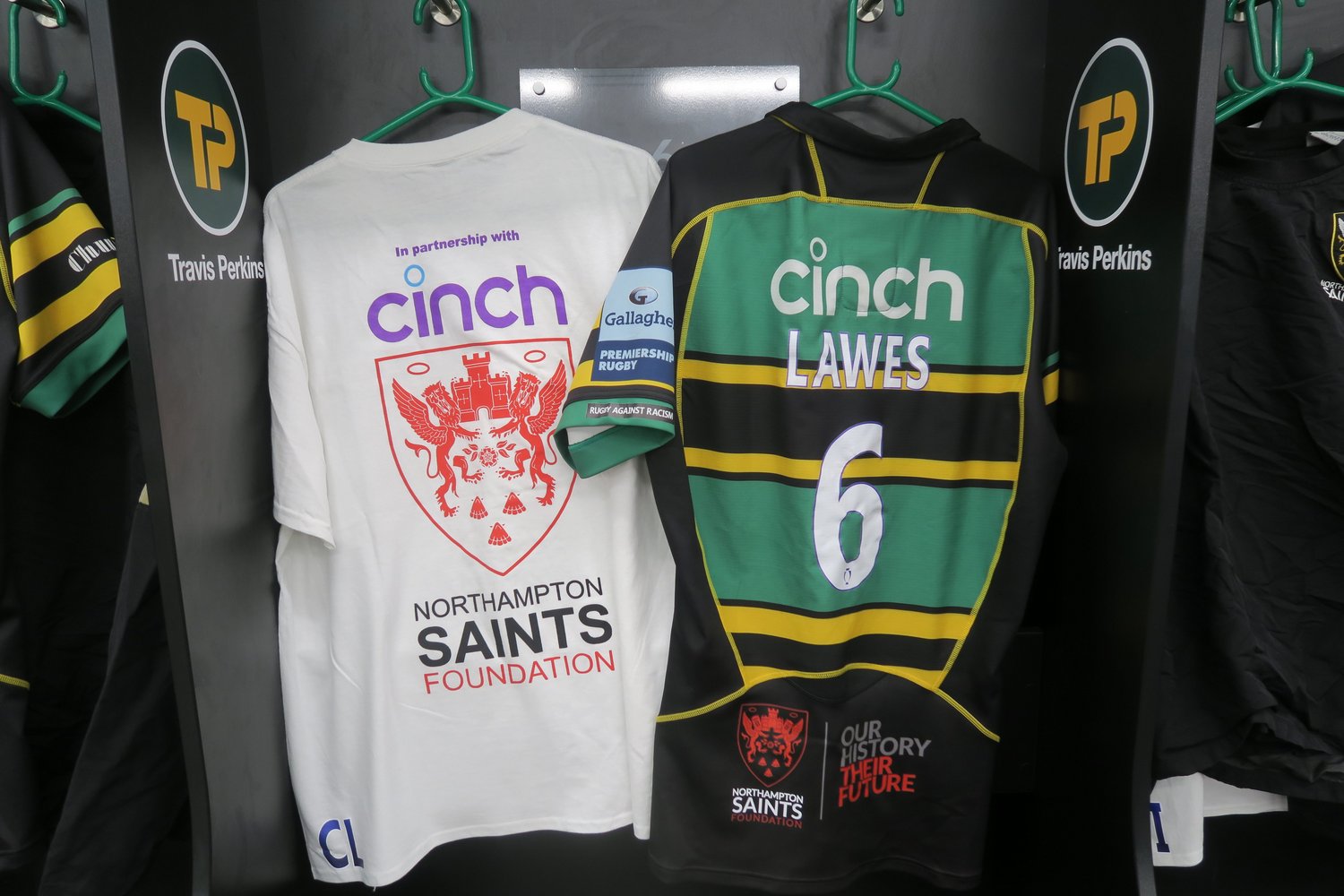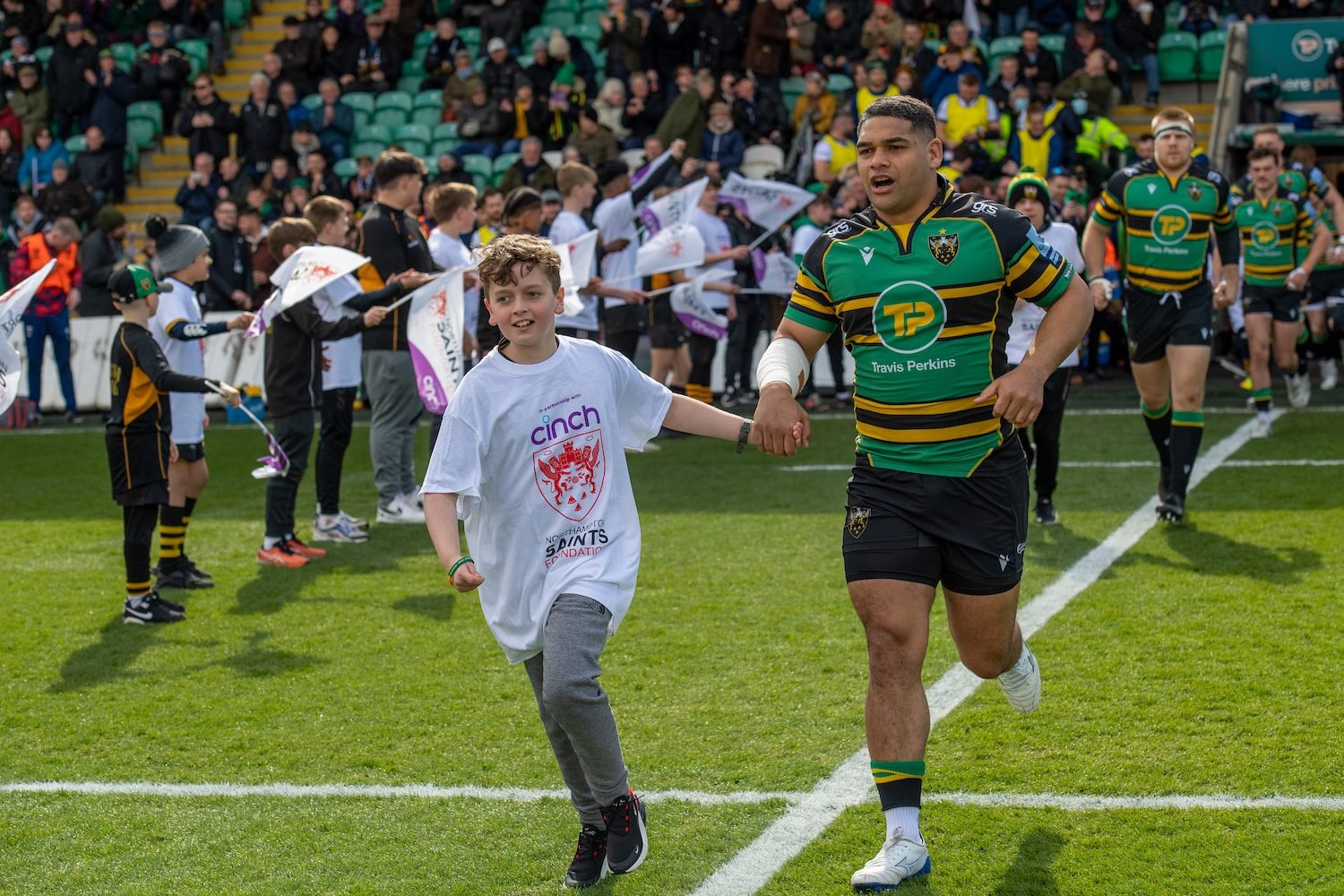 During the game representatives from Exceed Group took auction bids around the stadium, giving Saints supporters the opportunity to bid on exclusive signed items and experiences which carried on until a nail-biting end at 8pm once bids closed.
Half-time saw competition winners take part in a kicking challenge, with an incredible £1,000 for each successful kick donated by Foundation Day partners, cinch. With four out of the six participants successful, it was down to English pundit and former international rugby player Ugo Monye to knock the crucial seventh kick through the posts which doubled the money to £8,000.
We would like to thank everyone involved in Foundation Day 2022 – those who purchased tickets, took part in activities and donated funds before, during and after the game.
We are extremely grateful to our headline partners, cinch, who have worked alongside our staff in the build-up to and on the day itself to make this event the huge success it was.
Thank you to Mathew Stewart from Workwear Northampton, Claire Jones from Red Hat Photography, Northampton Saints' Marketing and Communications, Commerical and Ticket office departments, and Andy Tresias and Kristy Coates who ensured the day ran without a hitch. Thanks also must go to team manager Maurice Hartery, kit manager Kevin Buckby, plus all of Northampton Saints' players, coaches and stewards.
Your support into the future is vital to ensure we continue to make a difference to INSPIRE, SUPPORT and EDUCATE young people by providing them opportunities for the future.
We look forward to our third Foundation Day next year, and creating another memorable event!