The inaugural Northampton Saints Past Players Lunch took place last month at The Royal Automobile Club in London, with all proceeds going towards the Club's Benevolent Fund.
The Benevolent Fund was launched in 2022 and aims to provide direct support to Saints and Foundation staff (including past and current players) who are faced with challenges including (but not limited to) injury, illness, disability, and bereavement by providing financial support or signposting other organisations which may also be able to help.
Almost 100 former Northampton Saints players – with over 7,500 appearances in Black, Green and Gold between them – came together to reminisce about their time at the Club and shared memories and stories which spanned over 60 years.
Saint #1259, Roger Horwood, was the earliest Northampton player in the room having made over 200 appearances in the front row between 1958 and 1975 – meanwhile on the other end of the spectrum was Saint #1890, Tom Wood, who retired in 2022 after 12 seasons at the Club.
Speaking with a panel of former players, Wood reflected on his time with the Club, the 2014 Premiership victory and celebrations, his unforgettable semi-final try that year, and shared his plans to stay connected with the Club, Foundation and Benevolent Fund into his retirement – encouraging those in the room to help bring more and more former players together at future events.
The lunch, which will become an annual event, was hosted by Saint number #1629, Martin Bayfield, a former lock forward who gained 31 England and three British & Irish Lions caps during his playing career, before moving into broadcasting.
He said: "It was great to have so many people like Tim Rodber, Martin Steffert and Garry Pagel (who currently resides in South Africa) all together in the room to share many laughs and memories.
"I look back with immense pride at my time at the Club, and to know that Saints are still there for me, other players and staff through the Benevolent Fund is a true reflection of how the Northampton Saints family operates. It really is 'once a Saint, always a Saint'."
Paul Shields, Northampton Saints' Head of Recruitment and Retention, and Saint number #1852, is the chair of the Benevolent Fund.
"The event received overwhelmingly positive feedback from the attendees," he said. "Many hadn't seen each other since their playing days, so it was an incredible event to be part of. There were internationals, British Lions, World Cup winners and so many Club legends in the room – it was really wonderful to see them all together.
"Northampton Saints has a rich history, which the Foundation dedicates time to researching and recording, to remember the individuals who have bought the Club to where it is today, many of whom were present during last month's event.
"Every single player is a key part of the Club's heritage, and we encourage other past members to reach out and keep in touch with the Club because whether they played one game or ten seasons, they are part of the Saints family.
"The Benevolent Fund was born out of a desire to be able to do more for anyone facing life-changing illnesses or injuries, either during or following their time at Saints, and is there to be used by all our staff."
To apply for a Benevolent Fund grant on behalf of yourself or someone else, please download and complete the APPLICATION FORM and email to [email protected].
To find out about volunteering/fundraising opportunities, please contact Paul Shields at the email address above. Donations can also be made directly to the Benevolent Fund HERE.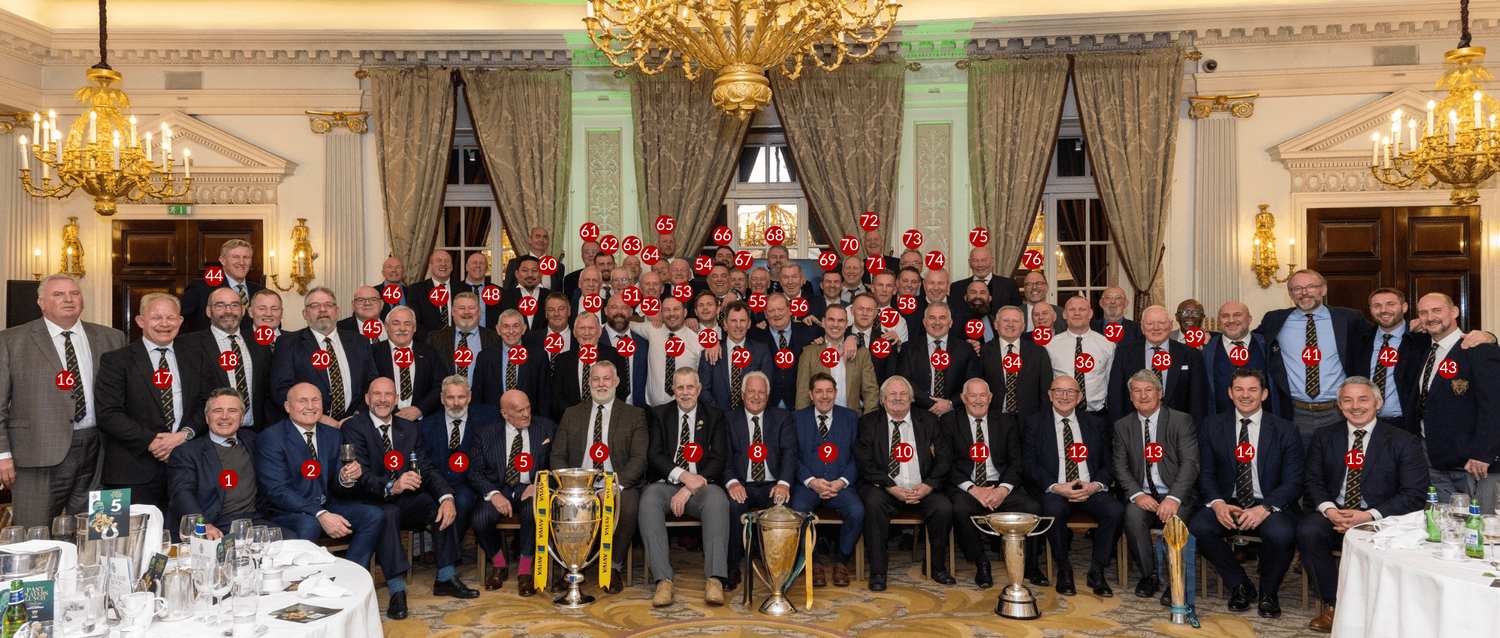 1 John Thame, 2 Paul Alston, 3 Phil Pask, 4 Ian Hunter, 5 Chris Jones, 6 David Merlin, 7 Keith Jensen, 8 John White, 9 Andy Croson, 10 Trevor Crane, 11 Barry Oldham, 12 Jacko Page, 13 Bob Kottler, 14 Steve Brotherstone, 15 Paul Shields, 16 Neil Edwards, 17 Harvey Thorneycroft, 18 Vacey Pocklington, 19 Jon Jenkins, 20 Tony Stoyles, 21 Duncan Frankland, 22 Danny Bayes, 23 Ian McGeechan, 24 Gary Pagel, 25 Roger Horwood, 26 Robbie Morris, 27 Brett Sturgess, 28 Mark Tucker, 29 John Steele, 30 Lennie Newman, 31 Mark Robinson, 32 Mark Soden, 33 Simon Emms, 34 Chris Sexton, 35 Paul Bryant, 36 Darren Fox, 37 David Mason, 38 Len Brookes, 39 Ivan Joseph, 40 Paul Ingram, 41 Tim Rodber, 42 Ben Cohen, 43 Ben Ward, 44 Matt Ebsworth, 45 Philip Baines, 46 Craig Millhouse, 47 Simon Heaver, 48 Richard Hughes, 49 Salesi Ma'afu, 50 Adrian Foster, 51 John Cooley, 52 Dave Elkington, 53 Matt Volland, 54 Dom Malone, 55 Alan Hughes, 56 John Surguy, 57 Ben Lewitt, 58 Phil Greaves, 59 Jon Philips, 60 Dave Woodrow, 61 Gary Pearce, 62 Tom Wood, 63 Martin Steffert, 64 Nick Beal, 65 James Brooks, 66 Simon Hepher, 67 Jeremy English, 68 Andy Newman, 69 Barry Everitt, 70 Simon Foale, 71 Ben Lewitt, 72 Rick White, 73 Vince Cannon, 74 Mattie Stewart, 75 Stephen Fehnert, 76 Martin Bayfield